"Family is very important to me," explains George Humphrey. "God and family
—
that's my life." That life had the potential to look very different after a bad accident in 2017.
George Humphrey, a sales representative, was calling on customers in the Fort Worth area when he encountered construction on the highway in Cleburne and slowed down as instructed. A collision knocked him out cold, and he learned when he woke up that his vehicle had been hit by a driver doing 70 mph. A good Samaritan, a former U.S. Army medic, stopped to help Humphrey and immediately assessed that his back was broken. He held Humphrey's head and neck in place to ensure he didn't experience further damage while paramedics arrived.
Humphrey was taken to Texas Health Harris Methodist Hospital Fort Worth, a Level II trauma center and the only North Texas hospital named to the 2017 list of Top 100 U.S. Neurosurgical Programs and Top 50 Spine Surgery Programs by Becker's Hospital Review. There, he met Olaide O. Ajayi, M.D., a spine and neurosurgeon on the medical staff, who saw the severity of Humphrey's back fracture and ordered an MRI to assess disc instability. The results of that test led Dr. Ajayi to recommend surgery to stabilize Humphrey's spine, and he agreed.
"He saw that my spinal cord was basically sheared, but it hadn't touched the nerve canal, which meant that I could walk, if fixed correctly," Humphrey said. "Luckily, he was there because he knew exactly what to do. He told me, 'You'll be back up walking.'"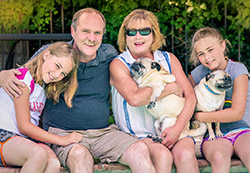 Ajayi's focus was on finding a way to stabilize Humphrey's spine with as little disruption to his body as possible. A minimally invasive approach was decided on, which involved making small cuts, each under an inch in length, through which Ajayi was able to place screws into the bone that protects the spinal cord. Using image guidance — akin to a GPS for the spine — allowed Ajayi extra visibility and guidance as he put the screws into the bone and then passed rods through the screws to anchor everything and hold Humphrey's back in place. He then laid down more bone along the outside of the rods to help stabilize the spine.
"By using the minimally invasive approach, we were able to limit his likelihood of having a lot of muscle pain after surgery. It also helped increase his rate of recovery, so he had a shorter recovery time," Ajayi said.
After surgery, Humphrey and his wife, Teresa, were pleased with the support they received at Texas Health Fort Worth.
"In the Spine Unit, the people were very friendly, very knowledgeable and very helpful. I was able to recover quickly because of all of their help," Humphrey said.
But the overall feel of the hospital and its staff impressed Teresa, who was scared to consider how different their lives could have been as she rushed to Humphrey's bedside after the accident, and who prayed for an answer from above.
"Texas Health Fort Worth is more than just a hospital; it's people that really care. From the first moment we went in, they treated us like family, really caring," she said. "The nurses were that way, too. It goes all the way down to even going and getting lunch down in the lunch room where they have this huge, wonderful cafeteria. The staff there was nice. I've never been in a place that I felt like that. It wasn't like being in a hospital — you kind of felt the love all around."
Less than six months after his life-altering accident, Humphrey was back to driving, calling on his customers, and even picking up 40- and 50-pound boxes he needed to lift for his sales job.
"I can do anything that I did before," Humphrey said. "I do yard work, go swimming. We play water polo quite a bit, and water volleyball. We do a lot of different recreational activities.
"Swimming with my grandchildren was a very important thing. That's something I wouldn't have been able to do without the surgery, that wouldn't have happened," Humphrey said. "I'd still be in a back brace on the couch. Now, we're able to go out and walk and do things that I wouldn't have been able to do."
"We appreciate life so much more now because in a second it can be taken away," Teresa said. "And Texas Health, they take care of you. It's the most amazing hospital I've ever been in. You truly feel cared for there."
Take the Back Health Assessment to measure your back pain or visit YourBackHealth.com for more information.
Ready to schedule an appointment? Find a back and spine specialist on the medical staff near you.