Texas Health is here to help patients with neurological diseases and trauma-related injuries. From neuro trauma to cerebrovascular conditions and comprehensive back and spine care, the dedicated nurses and physicians on the medical staff regularly treat diseases and injuries that affect the brain and nervous system.
Texas Health is a regional destination for high-acuity neuroscience services. Our neuroscience programs offer advanced technologies and compassionate care for North Texan's facing diseases and injuries that affect the brain and nervous system. Our multidisciplinary team of caregivers, including physicians on the medical staff, nurses and therapists, bring years of experience and wisdom gained from being a part of our high-volume neurological facilities.
Comprehensive Neurological Care
While some neurological conditions are more common, others are rare and complex. When you need care most, our medical staff offers the broad perspective and deep experience necessary to treat a spectrum of neurological diseases, disorders and trauma.
Alzheimer's Disease and Memory Disorders
Brain and spine tumors
Brain aneurysm
Carpel tunnel syndrome
Cerebrovascular and endovascular conditions
Chiari malformation
Degenerative spine conditions (Herniated discs, sciatica, spinal stenosis)
Epilepsy and seizures
Movement disorders (Parkinson's Disease, Tourette syndrome, tremors, Multiple Sclerosis)
Nerve entrapment
Neurotrauma
Sciatica
Scoliosis and spinal deformities
Spinal cord injuries
Spinal stenosis
Spine fracture
Stroke
Traumatic Brain Injury (TBI)
Trigeminal neuralgia
Ulnar neuropathy
High-Quality Care in Emergencies
As a Level I Trauma Center, also known as a Comprehensive Trauma Facility, Texas Health Dallas provides regional resources for patients who require complex trauma care, including 24-hour in house coverage by trauma and general surgeons as well as coverage by specialties including neurosurgery. Additionally, Texas Health Fort Worth and Texas Health Plano are designated Level II Trauma Centers.
All three programs have the depth and breadth of experience in advanced neurocritical care to treat patients with spinal cord and traumatic brain injuries. Dedicated neuro trauma intensive-care units (NTICU) are staffed by neurocritical care providers that provide 24/7 monitoring of neurotrauma patients. The units are fully equipped with neuroimaging and monitoring capabilities, including cerebrovascular ultrasound and advanced brain and spine monitoring capabilities.
Advancing Neurological Care in Collaboration with UT Southwestern
Texas Health Dallas, in collaboration with UT Southwestern, provides advanced and compassionate care to patients faced with health conditions that affect the spine, brain and peripheral nerves. The program is a powerful combination of Texas Health Dallas and UT Southwestern's commitment to offering convenient access to world-class care and the latest clinical trials and scientific research for the treatment of complex brain and spinal cord conditions.
Awards and Accreditations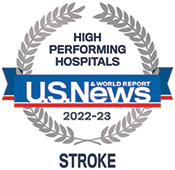 Rated Hospitals:
Texas Health Dallas
Texas Health Fort Worth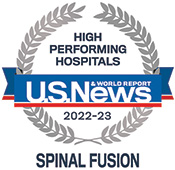 Rated Hospitals:
Texas Health Southwest Fort Worth
Texas Health proudly offers six primary stroke centers accredited by The Joint Commission. Texas Health Dallas and Texas Health Plano are comprehensive stroke centers as designated by DNV-GL Healthcare. And Texas Health Fort Worth is a Joint Commission Advanced Comprehensive Stroke Center, one of the highest certifications that U.S. hospitals can achieve. It is the first hospital in Fort Worth and one of only three hospitals in the North Texas Region to achieve this accreditation. Texas Health Dallas and Texas Health Fort Worth have also received a "high performing" rating for stroke care by U.S. News & World Report.
Texas Health Fort Worth is the first facility in the U.S. to earn The Joint Commission's Gold Seal of Approval® for Neurotrauma Certification and the second hospital in Texas to earn The Joint Commission's Gold Seal of Approval® for Advanced Certification in Spine Surgery (ACSS). The Gold Seal is a symbol of quality that reflects a healthcare organization's commitment to providing safe and quality patient care and demonstrating continuous compliance with its performance standards. Texas Health Southwest Fort Worth received a "high performing" rating for back surgery (spinal fusion) by U.S. News & World Report.
Texas Health Fort Worth is also an acknowledged state and regional leader in the treatment of brain tumors. We joined a rarified group by becoming the second health care facility in the U.S. to receive The Joint Commission Disease Specific-Care Certification for Brain Tumor. For patients, this nationally accredited program means a multidisciplinary approach to their care, where tools, technologies and treatments offer options for brain tumor care.
As the first hospital in Fort Worth to be recognized as a Level 3 epilepsy center by the National Association of Epilepsy Centers, patients have access to specialists on the medical staff devoted to providing the highest level of evaluation and treatment to help control seizures and improve the lives of those with complex epilepsy.
Additional accreditations include:
Treatments and Technologies
The treatment of neurological conditions and diseases is complex and constantly evolving. Physicians on the medical staff pair an evidence-based approach with a willingness to use new and advanced technologies, therapies and research to evaluate and provide high-quality care for patients.
NeuroBlate® minimally invasive robotic laser technology that uses MRI-guided laser light to ablate unwanted or abnormal tissue in the brain. Available at Texas Health Fort Worth and Texas Health Dallas.
Neurovascular treatments: biplane neuro-interventional radiology suites, thrombectomy procedures, and use of Pipeline® and Pulse Rider® devices for the treatment of cerebral aneurysms
Cerebrovascular program with minimally invasive treatment options
Virtual stroke care, or telestroke, program at Texas Health Fort Worth connects experienced, board-certified neurologists on the medical staff to patients in outlying and rural areas.
Neurodiagnostic: 3T MRI, iMRI, functional MRI, CAT, CT angiography, Flash CT, PET and SPECT
Hybrid neurointerventional operating suite with both non-invasive and open craniotomy procedure capabilities
Specialized neurosurgical techniques for spine and deep brain stimulation (DBS) surgery for Parkinson's disease
Epilepsy Monitoring Unit (EMU) with 24/7 monitoring using simultaneous audio/video EEG recordings to help evaluate and care for patients with complex and difficult-to-control seizures.
Participation in research into new therapies and treatments for patients with neurological disease and neurotrauma.
The Road to Recovery
Because a neurosurgical patient's journey does not end after surgery, an extensive suite of neurological rehabilitation services is available to safely help patients regain control of their lives and re-establish their independence. Programs include inpatient rehabilitation, brain injury, concussion and stroke specialty programs, stroke recovery and more.
Find a neuroscience specialist at a Texas Health location close to you.