Richard Danko never expected that one of the activities that he would struggle through the most would be putting on his boots.
He's jumped out of planes while serving his country. He's apprehended criminals to protect his community as a member of an elite policing team. He's walked countless miles patrolling his community to keep it safe.
Richard Danko never expected that one of the activities that he would struggle through the most would be putting on his boots.
It would take him approximately 10 minutes to accomplish that everyday task, the 57-year-old retired Army paratrooper and former SWAT member recalled. Danko currently serves as a detective in the Allen Police Department and for several months, one of his toughest missions each day was figuring out how to do something as basic as put on his socks and shoes.
"I'd go over to the fireplace and use it to put my foot up on it," Danko recalled. "I got one of those plastic sock assistant things to help me get them on. If I had to bend over to pick something up off the floor, I'd figure out how to pull a chair over to it, and then ease myself down to get it. It was handicapping."
Danko decided that perhaps the push-back he was feeling in his hips meant he needed to work harder on his stretching. But trying to do a stretch while lying in bed "was an immense amount of pain," he remembered. "I wake up at 5:30 a.m. or so to make myself a cup of coffee and let my dog out, and my 25-foot walk to the coffee maker would determine how much Motrin I would have to take that day," he said.
Danko sought a medical opinion after the chiropractic care he had sought didn't bring him relief. He was referred to Dr. Charles Toulson, an orthopedic surgeon on the medical staff of Texas Health Presbyterian Hospital Allen. After an examination, Dr. Toulson explained that Danko's pain and limited mobility were the result of osteoarthritis, a degenerative condition where the cartilage in the hip joint wears away over time.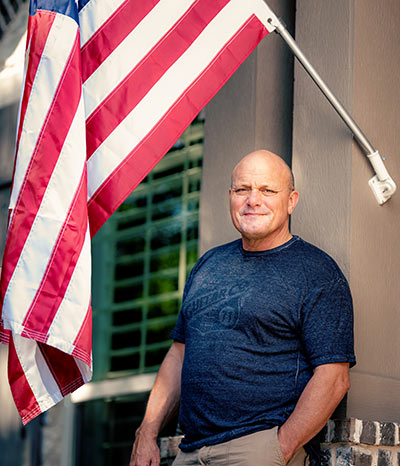 To treat this condition, Dr. Toulson recommended anterior hip replacement. Danko was told that he was a candidate for replacements in both hips, and that his right -- as the most affected -- would need replacement first. "The doc seemed like a very personable, no-nonsense fellow—very straight-forward," Danko said. "I asked if both hips could be done at the same time, and he said yes."
"For select patients who are healthy and motivated , bilateral joint replacement can cut the recovery time in half, when compared to joint replacements done separately," Dr. Toulson explained.
Originally scheduled for April 2020, Danko's hip replacement surgery was delayed when elective surgeries were put on hold during COVID-19. The pandemic didn't deter Danko, who was grateful when the surgery to replace his hips was back on the schedule for May 22.
"I was very thankful to get squeezed in," Danko said, as he talked about the safety measures in place that made him feel safe about his decision to proceed with the hip replacements. "I got tested two days before surgery, and no one had visitation. The staff was very cautious and had their procedures down."
Danko arrived to Texas Health Presbyterian Hospital Allen at 6:30 a.m. to check in and prep for surgery. He was out of surgery before 11:30 a.m. and was walking down the hall (with the assistance of a walker for safety) with his two new hips in place by 2 p.m. that same day.
"I have nothing but positive things to say. From first visit to last, folks were punctual and first-class," Danko said of the staff at Texas Health Allen. "The couple of times I pushed a button or asked for something, they were right on it."
Two days later, Danko was released from the hospital to head home, where he received in-home therapy for two weeks, followed by outpatient physical therapy at Texas Health Allen for another month.
With an early milestone in his recovery being able to get in and out of his truck easily without pain, Danko now is aiming to achieve more milestones. "I'm fully healed as of August 24," Danko said proudly. Cleared to return to his active lifestyle, Danko looks forward to pushing himself on a new bicycle he purchased and returning to an Allen circuit-training gym he frequents to keep himself healthy.
From his busy policing career to a pandemic that has put many people's lives on hold, there were many reasons Danko could have put off the care that he knew he needed. But this civil servant refused to let pain stand in the way of his active life spent helping others.
"To tell you the truth, getting to the other side was not very challenging," he said, "but if anyone is even contemplating this, I tell them to get it done."
Find a joint care specialist today who can assist with your joint pain. Or to learn more about your joint health, take our hip and knee health assessment.