Illnesses are rarely predictable. Nor do they come at a convenient time, as Whitney Jodry knows all too well.
When her oldest son Wells started showing signs of a respiratory infection and strep early one Sunday morning, the mother of three knew she would have to turn to someone other than the family's pediatrician for timely help.
She soon discovered that the closest after-hours pediatric care clinic wasn't open on Sundays and a nearby urgent care facility wasn't taking appointments until well into the afternoon. Whitney began searching online and found DispatchHealth.
Texas Health has recently collaborated with DispatchHealth to offer mobile urgent care services to residents in the Dallas area. It was a way for Whitney to get Wells the urgent health care he needed without having to leave home.
"After I found out they took our insurance and our co-pay would be the same as for an urgent care clinic, I decided to go for it," Whitney said. "It was such a blessing because I didn't have to take my other two kids to a clinic and expose them to more germs after I had just gotten them well. They were able to play while DispatchHealth came to us."
Whitney admitted that she had some early skepticism about the service, but the doubt quickly turned to relief when the DispatchHealth "Rover" vehicle showed up at her home displaying the Texas Health logo. Having delivered all of her children at Texas Health hospitals, the name was one she knew well. "Knowing that something unfamiliar was associated with something familiar gave me peace of mind as a mom," she said.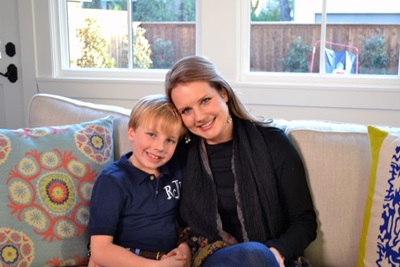 As is standard for the service, a medical technician and nurse practitioner arrived at the Jodry's home prepared to check Wells' symptoms and provide medical assistance in collaboration with a remote on-call emergency room physician. Whitney had requested someone with pediatric experience, and was happy to see one of the clinicians was a pediatric nurse practitioner.
"They did all of the things that would have been done in our doctor's office, but they spent 30 to 45 minutes with us," Whitney added. "In the urgent care, it would have been in and out. They were very thorough and asked a lot of questions. They were able to link to our pharmacy to understand what medicine Wells had been on in the past year. This was great because when they gave him an antibiotic, we knew they weren't duplicating something that he had had recently."
Spreading the Word
Whitney was so impressed with the DispatchHealth visit that she sent an email out about the service to her mom friends, family members and coworkers. And when she came down with symptoms of the flu several Sundays later, she again turned to DispatchHealth. "My husband jokingly told me, 'You have a new friend in DispatchHealth, so call them'. They diagnosed me with flu B, and got me and my family right on medication. We're all back on the road to better health now."
Whitney recognizes that the purpose of DispatchHealth is not to take the place of a regular physician or pediatrician, but rather to supplement an ongoing relationship with a primary care doctor. But when the pediatrician office closes at 5:00 P.M., and a family member inevitably gets sick after hours, it's nice to know there's another resource available.
"I had a very hard time having a family, and once I finally got pregnant with our first child he and I both almost died. I have a real connection to Texas Health and to the doctors who saved our lives. When you go through something personal like that, you're a patient for life whether it's in Fort Worth or Dallas or Arlington, or in your own home," Whitney shared.