After experiencing a medicated vaginal birth with her first daughter eight years ago, mom-to-be Wendy Shannon was looking for something different second time around.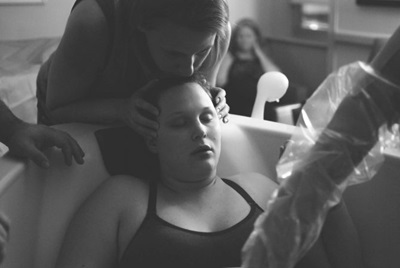 It's not that her first delivery wasn't smooth, but there were things about the experience that she just didn't want to repeat. She suffered from gestational diabetes with her first pregnancy and had to be induced with Pitocin along with receiving an epidural. Being a nurse, Shannon knew how to go about finding an alternative birth option. She did her homework and found that Texas Health Harris Methodist Hospital Fort Worth supported a variety of birth plans.
This time, Shannon wanted to have a natural water birth using a midwife. She located a certified nurse-midwife on the medical staff at Texas Health Fort Worth and began working through her rather non-traditional birth plan.
"I wanted a natural birth and I read a lot about water births helping with pain," Shannon said. "I knew quite a few women who had had them and loved them."
As the arrival of daughter number two approached, Shannon had the support of the hospital's Labor and Delivery nursing staff when she came with her "entourage" that included her husband, younger sister, best friend/photographer, doula and then seven-year-old daughter. She was mentally prepared for 12 to 18 hours of labor, but baby Reagan had a different plan. Shannon almost gave in on getting an epidural after reaching the 18-hour mark but instead considered giving nitrous oxide a try. The only dilemma: she wouldn't be able to push in the water while on the gas. Shannon had a decision to make. She chose the nitrous oxide over her water birth.
"The nurses were super supportive of my desire for a natural water birth but they didn't skip a beat when I cried for the gas," Shannon said. "Nurse Bri was tender but firm when I needed it and she never seemed inconvenienced by my daughter being in the room."
With baby Reagan now well on her way, the plan was to get Shannon back to her bed in the adjoining room for the delivery. Too far along, she knew she wouldn't make it. A yoga mat placed on the floor next to the birthing tub would have to do. She lied down on her side with one leg in the air, as instructed by her midwife and an L&D nurse, and began to push.
After nearly 26 hours, baby Reagan appeared and was placed on Shannon's chest. But almost immediately she knew something wasn't right with the baby. Instead of the intended delayed cutting of her umbilical cord, Shannon's sister was directed by the midwife to immediately cut it. Little Reagan cried a weak cry and then went limp, and the room quickly filled with staff from the Neonatal Intensive Care Unit. Members of the NICU got the baby breathing but a chest X-ray and CPAP treatment followed. Despite the unexpected events, Shannon felt confident that she and her family were getting the care they needed.
"Most people would probably classify my baby's birth as a traumatic event, but I never felt the stress of an emergent situation," Shannon said. "I felt confident in the staff; they knew what they were doing and I could trust them. I had peace knowing my baby was receiving great care. She only had to be on the CPAP for 12 hours and went to room air right after."
"Reagan was in the NICU a total of three days because we struggled getting her to take a bottle or the breast. The lactation consultant was the biggest help in getting her to successfully latch, and neonatologist Dr. Yvette Johnson joked about Reagan being the biggest baby in the NICU at just under eight pounds. All of the NICU nurses were superb. My L&D nurse, Bri, was one of a kind – I will never forget her. My midwife, Kathleen, was also a dream. Together, they kept me focused and calm, and I couldn't have done it without them," Shannon added.