Mandy Clark made her entrance into the world weighing a mere 1 pound, 10 ounces.
The Neonatal Intensive Care Unit at Texas Health Presbyterian Hospital Dallas served as her home for the first four and a half months of her life. At the time of Mandy's birth, there was no Margot Perot Center for Women and Infants. Premature babies were tended to in a six-bed NICU inside the hospital where new parents could come and go as they pleased and be as hands-on as they pleased with the care of their fragile newborns. That was 37 years ago.
Although Mandy doesn't remember the Texas Health Dallas NICU where she got her start her mother, Susan Woodall, has shared stories about how times have changed in the way premature infants are supported. And today, both mother and daughter have two experiences with the NICU from which to draw upon.
Then and Now
When Mandy was born in 1980, her mother had what is today known as premature rupture of membranes (PROM). The condition caused Susan Woodall to go into preterm labor. As a result, Mandy was born at just 27 gestational weeks and was given a 10 percent chance of survival. The Woodalls experienced good and bad days with Mandy and they saw a lot during their stay in the NICU.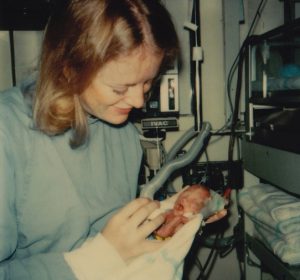 "At the time, they did procedures on other babies right next to us," Woodall recalled. "Some of those babies didn't make it. Also, there were no preemie diapers so they had to be made, and I remember Mandy going home with us in the car being held by her grandmother. There was no car seat requirement. But one of the biggest differences from today is that the nurses would let me do things that they were doing, like gavage feedings. I actually would insert a feeding tube down Mandy's mouth or nose to feed her. Now, the staff is responsible for this level of care."
Mandy has a deeper appreciation of Susan's recollections of the Texas Health Dallas NICU now that she is a mom herself to two children who also call the hospital's NICU their first home. Her twins, son Michael and daughter Haley, were born inside the Margot Perot Center at 32 weeks; Michael weighed just 2 pounds and 11 ounces at birth and Haley weighed a little over 4 pounds. Her pregnancy was considered high risk from the beginning due to Mandy being 35 at the time and carrying twins. When Michael developed intrauterine growth restriction (IUGR) at around 20 weeks, resulting in a lower than normal fetal weight, Mandy and her husband began preparations for an early delivery.
"My doctors did an amazing job of preparing us for an outcome of having preemies," Clark said. "At about the 26 week mark they prepared us for an early delivery, and at 27 weeks my OB/GYN told me to get a bag packed. What also helped prepare us was going on the high-risk maternity tour at the hospital, where we got to see the Antepartum, Postpartum, Labor and Delivery, NICU and Special Care Nursery units. I felt like this really helped us know where we would be each step of the way during our journey."
A Continued Commitment of Quality Care
Mandy delivered the twins via cesarean section, and thus began her second encounter with the NICU. The twins were both placed on CPAP for breathing and underwent light therapy & services that weren't available when Mandy was born. Michael ended up staying in the NICU for six weeks, while Haley spent nearly eight weeks between time in the NICU and Texas Health Dallas' Special Care Nursery. Mandy and her husband Ben are thankful for the people and technology that helped get their little ones on the road to better health, while giving the new parents some peace of mind.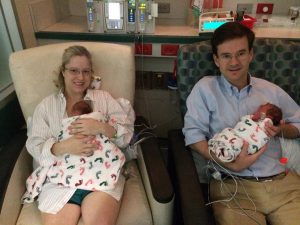 "What helped the most in the NICU after my discharge was being able to see the twins on the cameras," Clark said. "Leaving the hospital without your child for any reason is hard, but knowing I could call or log on to see them was a big help in getting through that. And, it was great because I was able to bring Michael back up once he went home. The nurses even kept his bed in the room for us to use during the day. It was also a huge help that my mom had gone through all of this with me 35 years prior. In fact, I remember one of the nurses asking if my mom was a nurse because she was so knowledgeable from all of the stuff she had to go through with me."
"We had amazing nurses and doctors caring for me and the twins. Each nurse really took time to answer questions and explain what was going on with each child. The doctors explained what we needed medically and more. This really helped make it easier when we had to leave them in the NICU and Special Care Nursery. Over the years, Texas Health Dallas has really come through for us. For this we are forever grateful," she added.
The Lasting Bond
Neither Mandy nor her mother has lost sight of the people and place that have provided such great care for their family for generations. In fact, on Mandy's first birthday all of the NICU nurses planted a tree in the family's front yard and when one of her nurses turned 90 last year, Mandy was able to celebrate the occasion and share the news of her pregnancy.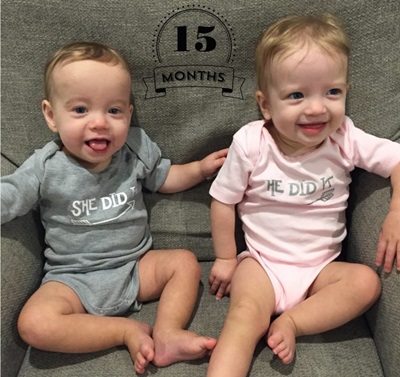 Today, the Clark twins are now 15 months old and doing well. Mandy and Susan have begun sharing stories about Texas Health Dallas with Michael and Haley in hopes that the hospital may come to hold a special place in the twins' hearts as well.
Learn more about having a baby at Texas Health Dallas.