A Message from the CEO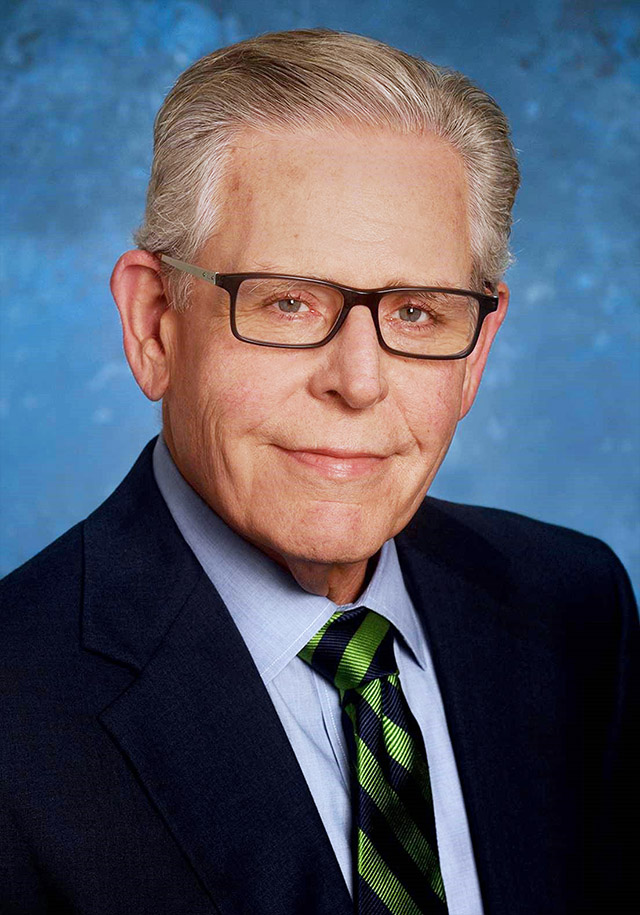 Dear Community Leader,
According to the North Texas Commission, the Dallas-Fort Worth region gains a new resident every four minutes. And along with current North Texans, our new neighbors require a host of services and resources, including access to safe and reliable healthcare.
So, Texas Health is growing with our community.
Just last month, we opened the new Justin Tower at Texas Health Harris Methodist Hospital Fort Worth. Soon, we will move into the new Center for Women at Texas Health Presbyterian Hospital Denton, the only provider of obstetrical and neonatal intensive care services in the city of Denton. We also have renovations and expansions underway at Texas Health Presbyterian Hospital Dallas, Texas Health Presbyterian Hospital Rockwall and Texas Health Huguley Hospital Fort Worth South. We're opening more Texas Health Breeze Urgent Care centers, offering increasingly advanced care from the east to the west sides of town and expanding virtual care options. We've even brought back the house call.
But while we welcome new residents, continue to care for those who have counted on us for years, and grow to accommodate the community's healthcare needs, it takes teamwork to make sure all North Texans, especially within the most vulnerable populations, can live their best and healthiest lives.
Labor shortages across the nation are impacting many industries, particularly healthcare. In North Texas we are partnering with community organizations, school districts and universities to attract more people to work in healthcare, from environmental services workers to physicians in training.
At Texas Health, we believe in moving beyond our walls to address the societal and environmental factors that negatively impact health and well-being. That's why we are committed to pursuing partnerships with businesses and community agencies to proactively find solutions.
Just a few weeks ago, I was in Washington, D.C., on behalf of Texas Health to accept the 2022 Foster G. McGaw Prize from the Baxter International Foundation, the American Hospital Association and its nonprofit affiliate Health Research & Educational Trust. This award recognizes one health system nationally that has demonstrated exceptional commitment to community service in areas of leadership, partnerships, breadth and depth of initiatives and community involvement.
And while the recognition is nice, I'm most proud of the work it represents – the lives improved by expanding access to care and connecting North Texans with services and resources.
Our award focused on five programs we support in North Texas. I've previously told you about Blue Zones Project Fort Worth, a well-being initiative that makes it easier for people to make healthier choices. And I've given an update on the Sexual Assault Nurse Examiner program, in which nurses deliver specialized care to sexual assault victims while also providing community education to address the issue before it occurs. Below, I've shared a little more on the other programs profiled in the award:
Caring Clinic
Faith Community Nursing
Northwest Community Center
These and many other community initiatives, through the power of partnerships and collaboration, are helping our communities.
Please take a moment to read on about these amazing organizations improving the lives of North Texans. I've also included an update on the latest COVID-19 developments, since I know the pandemic is never far from our minds.
And I encourage all who share similar goals to get involved. Start by contacting me at AskBarclay@TexasHealth.org.
Sincerely,
Barclay Berdan
COVID Update
A Lull in COVID-19 Infections, but the Fight Isn't Over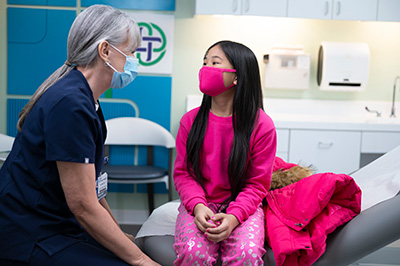 We have enjoyed, albeit cautiously, a needed breather in our two-year fight against COVID-19 as the omicron surge of late winter has faded. Although infections and hospitalizations continue to be at their lowest levels since the start of the pandemic, we continuously monitor developments across the world, watching new variants and preparing for what may lie ahead.
We have moved to living with this virus but expect that subvariants will increase caseloads at times.
Earlier this month, the Biden administration warned that the United States could see 100 million coronavirus infections and potentially a significant wave of deaths this fall and winter, driven by new variants that have shown an ability to escape immunity.
Here's our perspective on what we're seeing here in North Texas.
Hospitalizations, Positivity Rates
Across our system, COVID-19 hospitalizations remain low, averaging approximately 50 patients per day over the last month. For context, during previous surges, we've had well over 1,000 COVID-positive patients in our hospitals daily.
However, many hospitals in DFW are operating with high census, meaning most beds are filled. Why is that? Patients who delayed care are unfortunately experiencing the impacts. Consumers who postponed surgeries and medical procedures are back for care. We will manage, but this is by no means a summer break for caregivers.
Testing positivity rates, while low, are creeping up, an indicator of community spread.
While the omicron BA.2 variant, now the dominant strain in the country and our area, is highly transmissible, it does not typically cause severe infection requiring hospitalization in otherwise healthy individuals, particularly those who are vaccinated and have received boosters.
Based on these trends, we expect hospitalizations will remain low throughout the spring but may rise again late this summer or fall.
Tracking New Variants
As we manage cases caused by omicron BA.2, we also study how the virus is mutating. A newer omicron variant, BA.2.12.1, is forecast to increase in the coming weeks, although it is not expected to become an immediate threat in terms of rising hospitalizations.
We're also tracking two highly transmissible omicron variants from South Africa, BA.4 and BA.5. Both have a similar profile and show evidence of being able to escape immunity. While BA.4 and BA.5 are spreading faster than other variants, cases remain low in the United States. At this point, they are a cause for concern but not alarm.
What We Expect This Fall
While no one can perfectly forecast the future, we take what we've learned over the last two years and put information into predictive models to help us plan and prepare.
As mentioned above, scientists are cautioning that the fall and winter could be difficult and we expect additional waves of COVID-19 in North Texas. What is unclear is the degree to which that increase will translate into a rise in hospitalizations or other burdens on the health system, and heartbreak for our friends and neighbors.
Vaccinations and Education Efforts
The other key unknown variables are vaccines and individual behaviors.
Both Pfizer and Moderna are working on new booster shots that combine different versions of the coronavirus to protect against variants, but we do not yet know if they will be more effective than existing vaccines. Also uncertain is if the public will get them.
Children under 5 still can't get vaccinated, but that could change in the coming weeks. The CDC recently approved the Pfizer booster for children 5 to 11 and it is now available. Children in this age range can receive a single coronavirus booster shot at least five months after receiving the initial two doses. Again, how many parents will decide to vaccinate young children or seek boosters is unknown.
Texas Health will continue to educate the public on the benefits of vaccines and boosters as the most effective way to avoid severe illness. But another thing the last two years have taught us is, those who often have the biggest impact in spreading awareness and information about vaccines are trusted members of the very communities we're trying to reach. We've created educational and awareness resources in multiple languages for organizations to share within communities. You can find the materials here, as well as information about downloading our Vaccine Education Toolkit. We'd be happy to partner with you to encourage more North Texans to consider vaccines and boosters.
I emphasize the following choices and behaviors: Get vaccinated. Get boosted. Keep washing your hands. Consider masking in certain crowded or indoor environments. And when traveling, be aware of the conditions where you are visiting and respond appropriately.
Brief: Faith Community Nursing Bridges Faith and Medicine – and Saves Lives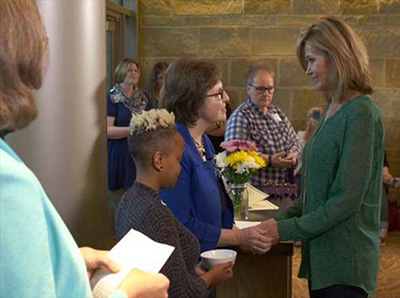 At Texas Health, we believe in meeting people where they work, live, play and pray.
Back in 2001, a group of employees decided we could be doing more outreach with faith communities and launched what we now know as Faith Community Nursing (FCN.)
Over the past two decades, the program has flourished, and now more than 350 volunteers – unpaid registered nurses and health promoters who give time and expertise outside of their jobs – serve 127 faith communities across the region. Texas Health trains and supports these volunteers in caring for members within their own congregations.
Volunteers focus care on individual communities' needs. They organize education events, distribute health information, host vaccine events, lead CPR and Advance Care Planning workshops, connect individuals with community resources and run support groups.
These efforts help people live their healthiest lives. They also save lives.
A few years ago, Silver Creek United Methodist Church in Azle received a donated automated external defibrillator (AED), however no one was trained to use it. The Rev. Vaughn Baker remembered Cindy Bozarth, a registered nurse he had met through another pastor, and contacted her. An FCN volunteer, she agreed to teach a class on CPR and use of the AED to about 20 congregation members.
Less than a year later, the chair of the Church Council, who took the class, put what he learned into action.
His stepdaughter had stopped breathing. He discovered her limp and turning blue. While his wife called 911, his training kicked in. He began chest compressions, and she started breathing again just as the ambulance arrived.
"Faith Community Nursing helps us save lives outside of the hospital," Bozarth said. "It gives churches a connection with a hospital, so that we can provide lifesaving resources."
At Silver Creek, that connection comes with a deep appreciation.
"Like hospitals, churches are a healing ministry," Baker said. "While hospitals focus on the restoration of physical bodies, we are all about the restoration of what God has done in someone's life. A strong partnership exists between faith and medicine; we are on the same team."
If your congregation is interested in Faith Community Nursing, Texas Health can train registered nurses, as well as prepare those interested in taking on a health promoter role, to develop and sustain a successful health ministry. To learn more, reach out to us at FaithCommunityNursing@TexasHealth.org.
Brief: Northwest Community Center's Network of Partnerships Brings Health Care and Hope To Refugee Communities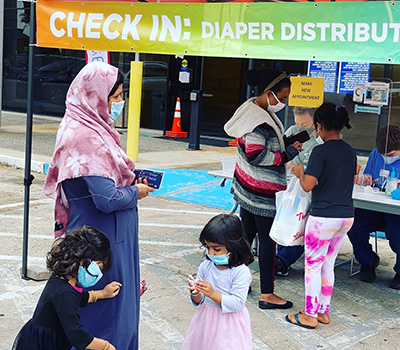 The Northwest Community Center, a collaborative initiative that provides healthcare and other essential resources, is a shining example of building community partnerships that improve lives.
While their stories differ individually, residents of Vickery Meadow in northeast Dallas often share similar traumas. Many residents are refugees who landed here with little more than hope of starting a new life. Ninety-five percent live at or below the poverty level and lack necessities.
Texas Health Resources and Texas Health Presbyterian Hospital Dallas recognized an opportunity to bring multiple organizations together into a powerful partnership. Joining with Northwest Bible Church and Healing Hands Ministries, the Northwest Community Center (NWCC) opened in 2016 and has expanded three times over the last six years.
Housed in a 50,000-square-foot building in the heart of Vickery Meadow, NWCC is a hub of activity. The program now serves nearly 26,000 residents physically, emotionally and spiritually in an atmosphere of hope and healing.
NWCC programming helps residents facing issues impacting access to healthy food, employment, transportation, housing and healthcare. The depth and breadth of services offered are made possible through an extensive partnership network including Hope Supply Co., International Rescue Committee, Refugee Services of Texas, St. Vincent de Paul Pharmacy and Vickery Trading Company.
Despite challenges posed by the COVID-19 pandemic, in 2020, nearly 50,000 visits at women's, pediatrics and family practice clinics were conducted. Free medication was provided to 78 percent of patients. COVID-19 vaccine doses were administered to 3,700 people, and more than 1,900 families received monthly distributions of diapers and hygiene items
Looking forward, NWCC is adding more mentoring and tutoring programs for students, opening a test kitchen to teach clients to prepare healthy meals and planning an entrepreneurship symposium for refugee-owned businesses.
We accomplish more through partnership, and there's no better example than how NWCC is enriching the lives of residents of Vickery Meadow. If you'd like to get involved personally, or if your organization is interested in partnering, please contact outreach@northwestbible.org.
Brief: Caring Clinic Goes Above and Beyond to Improve the Lives of Those Struggling with Chronic Conditions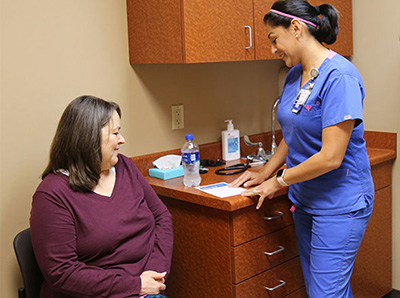 How many patients would expect their healthcare provider to help them find an apartment after recovering from a stroke – and then come over to help decorate? Or assist in replacing a lost driver's license by accompanying a patient to the Department of Motor Vehicles – and making sure the individual could pay the fee?
The Denton Caring Clinic does all that and more, caring for clients' body, mind and spirit to improve health outcomes and lives.
Established in 2013, the Caring Clinic helps underinsured or uninsured individuals manage chronic conditions including asthma, diabetes, heart disease, hypertension and more. They take a holistic approach, customized for the individual, providing medical care as well as removing barriers to healthy living, so patients can better manage their disease instead of relying on emergency room visits. The staff of two nurse practitioners, two patient navigators and one diabetes educator assist more than 200 patients each year.
Partnership – with patients, caregivers and other community organizations – is key.
Compassionate Caring Clinic employees connect clients with community-based resources – things like bus passes, access to healthy food, school supplies or assistance with finding housing or job placement. The goal is simple: Help patients live their best and healthiest life.
And it's making a difference.
When chronic disease is successfully managed, clients are out living their life instead of rushing to hospitals. Findings show a 32.1% reduction in emergency department visits and a 70.1% reduction in inpatient admissions among Caring Clinic clients.
But the true impact is seen in improving life for our patients. Clinic nurses go above and beyond to serve the specific needs of patients, understanding that caring for vulnerable individuals requires commitment to achieve long-term goals of better health and greater self-sufficiency.