If you're like millions of first-time parents, you've most likely read or been gifted the perennially popular book, What to Expect When You're Expecting. But none of the baby books could've possibly predicted or prepared first-time moms Jessica and Heather for what's going on right now. After all, a baby's birth isn't something that can be postponed or rescheduled.
If you're pregnant and concerned about how coronavirus will affect your delivery day, you're not alone. While it's completely normal to feel anxious about the birth of your baby — even in the best of circumstances — you may be surprised to find out that the actual experience might not be too different from delivering pre-pandemic, even though your birth plan might look a little different than expected.
"We actually had hired a doula* to come be with us and she was unable to come since only one support person can be with you," says Jessica McBride, who delivered her first baby, Julia, at Texas Health Plano. "We had to revamp our strategy, but she was able to be with us virtually. She was going over things my husband could do to help me while we were there, explaining some things she might have done if she was there, etc. Beforehand, I had pictured my husband and doula there and this magical experience. Even though that didn't happen, it still ended up working out really well."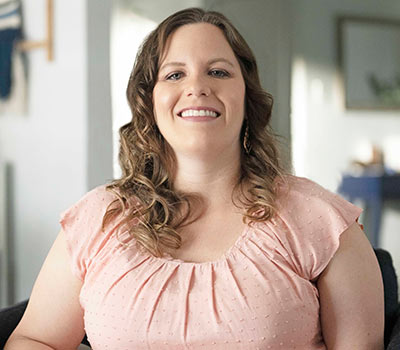 Jessica McBride
The adjusted visitor policy is just one of many changes Texas Health is implementing to keep everyone safe during this time. The check-in process has also been readjusted for safety.
Any person having surgery or a procedure, including birth, at a Texas Health Hospital will be tested for COVID-19 to provide appropriate care for the patient, and for the protection of visitors and the care team. When you arrive, care team members will evaluate you to determine a safe and appropriate care plan. If you are in active labor, you will be admitted to the hospital as you normally would and then the test will be administered in your labor and delivery room or triage area.
Masks will be required for everyone entering the hospital, including your support person. The hospital will provide these when you arrive. While your support person will not be tested for COVID-19, they will be screened each time they enter the hospital.
First-time mom, Heather Egan says she wanted to be as prepared as possible, knowing policies and protocols had changed from when she previously toured the labor and delivery unit at Texas Health HEB prior to the pandemic.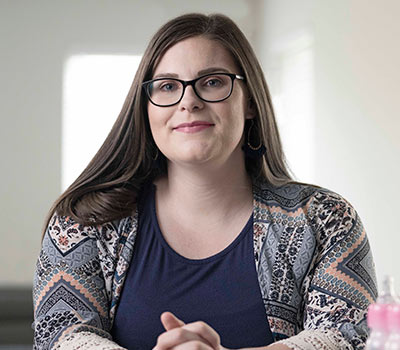 Heather Eagan
"I called twice before I went into labor, about a month prior and then two weeks prior, just to ask them what their policies were, what to expect, and where to go just so I knew what to do when the time came," she explains. "We went in at the main entrance and of course no one was there except for the main screener, which was nice because we didn't have to worry about being around anybody. They asked us some screening questions, took our temperature, gave us our masks, told us where to go, etc. The check-in process was really simple and they did a good job of keeping us socially distant during the check-in."
Egan was fortunate to have toured the hospital prior to the new policies, but Texas Health has made it possible for you to go on a virtual tour. To virtually tour or view pictures of your labor and delivery unit, visit the Hospital Maternity Experience webpage to select your hospital location.
Despite the new policies — and the masks — both Egan and McBride say they received such great care that they almost forgot all about COVID-19 during their stay, something Teri Forney, M.D., OB/GYN and physician on the medical staff at Texas Health HEB, says she's noticed as well.
"Once they get to the hospital and the delivery situation, they're less stressed and more calm; they're focused on getting that baby out," she explains. "I think I see more anxiety in the office because they just don't know what to expect or what it's going to be like once they get to the hospital right now."
Forney adds that she is finding that many expectant patients are anxious because they hear stories from friends or family members in other states who have delivered and are not allowed any visitors, not even dad, and they fear that's how it's going to be for them.
"I think when they realize they won't be having their baby alone they feel much better," she says.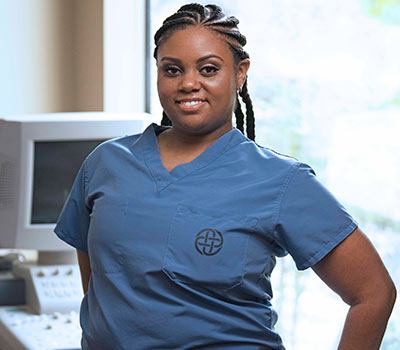 Teri Forney, M.D.
Egan and McBride say they felt that familiar pang of anxiety thinking they may have to deliver their first child all on their own, but found that even though multiple family members and friends couldn't be in the room, they found a new 'family' within the care team members taking care of them.
"This was our first time delivering a baby, so the thought of doing it by ourselves without our family there was scary at the time because we didn't know what to expect, but the nurses became like our family," Egan says, who delivered a healthy baby girl named Violet. "They were there for everything. They talked to us about the process of it and then life outside of the hospital, which made us very comfortable. I will always have my babies at Texas Health because those nurses just go above and beyond."
"They went out of their way to be helpful; every single nurse I had was helpful," McBride adds. "You have to get pretty up close and personal with someone when they're in labor; helping them breastfeed, things like that. They were very close to my face, which can be nerve-wracking for both of us, but they never treated me differently. Besides the masks, it was business as usual."
McBride goes on to say that while they were given the option to leave after the first night, they felt so safe that they decided to stay two nights.
"We decided we felt safe and were getting such great care, and as first-time parents, they were busy teaching us things, so we decided to stay the extra night," she explains.
"We decided we felt safe and were getting such great care, and as first-time parents, they were busy teaching us things, so we decided to stay the extra night," she explains.
While delivering your newest bundle of joy may look a bit different than planned, Texas Health is always committed to providing support and care for a safe and memorable childbirth experience.
Both moms say the staff at their respective hospitals went out of their way to make sure friends and family members could still be a part of their baby's first hours. McBride was moved to a room on the first floor where friends and family could see the baby for the first time through the window.
Staff at Texas Health HEB happily agreed to wheel Egan and her baby to a window on the first floor of the hospital where friends and family could see them both from outside.
"When you're first time parents, you already don't know what to expect. Then COVID comes into the picture and now no one really knows what to expect," says Egan. "But from the moment we stepped into the hospital, they went above and beyond to make sure we had all of our questions answered, that they gave us information before we even thought to ask about it and made sure we were comfortable. They let us know how they planned on keeping [our baby] safe as well as us. As new parents, you may not know everything but you do know their safety is your No. 1 priority."
"I want it to feel as normal as possible while still being safe," Forney adds. "Despite the fact that I'm covered in protective gear, I'm still Teri Forney and you're still the patient and I'm gonna be there to get you through this."
For more information about what to expect during your maternity stay, visit TexasHealth.org/COVID-Pregnancy.
*Texas Health's doula policy has changed since this story was written. View the latest visitor policy here.