Award winning children's book author Susan Stevens Crummel loves reading her stories to children. When a stroke impacted her ability to speak, she turned to speech rehabilitation at Texas Health Fort Worth.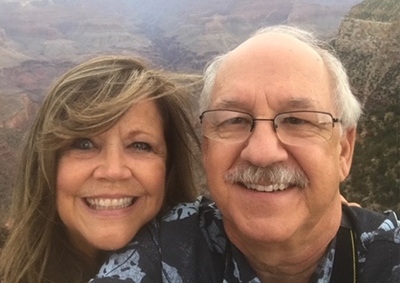 It takes 72 muscles all working together and in harmony with the brain to produce human speech. Many of us take that coordinated effort for granted. Not so, however, for stroke sufferers whose speech is impacted by the unexpected illness.
According to the American Stroke Association, complete recovery from a stroke can take up to two years even with expert medical help. Without professional assistance, learning to speak properly again might seem out of reach for some patients. Fortunately for Susan Stevens Crummel, the path to regaining her voice after a stroke led to nearby Texas Health Fort Worth.
It was March 18, 2020, and the usually very active 71-year-old was "recuperating" after a day of entertaining her grandkids. Susan had woken up foggy and overly tired, so she decided to return to bed. Hours went by and finally Susan's husband, Richard, checked in on her to make sure everything was okay.
"She couldn't talk, and she seemed dazed and confused," Richard recalls. "When I asked her to name our three children, she couldn't."
What followed was a five-day stay at Texas Health Southwest Fort Worth for Susan, during which Richard could only see his wife via FaceTime — thanks to the start of the pandemic. A further meeting with a cardiologist turned up a tumor inside Susan's heart. A small piece of the tumor had dislodged and traveled through a hole, impacting blood flow to Susan's brain. She then spent another five days in a Dallas specialty hospital to undergo minimally invasive heart surgery to remove the tumor and start on physical therapy. The whole time, she was largely unable to communicate due to the left middle cerebral artery (LMCA) stroke that had occurred.
Susan's stroke left her with a condition known as aphasia. Aphasia affects the language center of the brain, causing difficulty in comprehension and/or speech production. It can also impact the ability to read and write. In Susan's case, the aphasia had left her struggling to speak and understand even simple requests.
When she recovered enough to go home, Richard knew his wife's real health journey was just beginning. The next phase would be speech therapy. The Crummels turned to the Comprehensive Stroke Center at Texas Health Fort Worth. The hospital is certified as a primary stroke center equipped to provide a high standard of stroke care, including rehabilitation.
The Return to a Successful Life
Susan Stevens Crummel is a 31+ year veteran teacher who found such success and demand as a children's book author that she switched careers. She has gone on to receive the Texas Bluebonnet Award, among other recognition, and has read her children's books several times at the White House, around the world and at schools across the DFW area.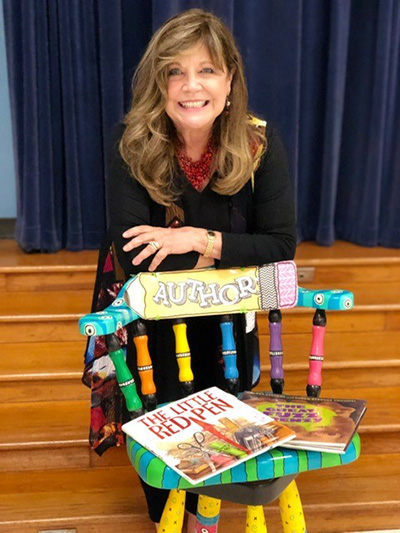 "Susan has been such a joy to work with, and she has certainly made me a better therapist," says speech language pathologist Whitney Bodine, of Texas Health Fort Worth's Speech Rehabilitation Therapy program. "I remember our first session together when she was unable to name basic pictures, unable to write short phrases, and unable to read and comprehend minimally complex sentences. She was unable to participate in the job duties she so loved, of reading her books to children as part of school literacy programs. It has been a labor of love to help her prepare to return to one of her greatest passions."
For 13 months, Bodine and other members of the speech rehab staff worked with Susan three times each week on basic skills to help her regain her understanding of simple conversations. Over time, the exercises have become more complex, and Susan has progressed to two sessions each week in the program.
"Part of the work involves role playing conversations in everyday life and, as she has advanced, delving into some simulated job tasks to challenge her," Bodine explains.
Bodine has engaged Richard as well to help carry out actions and goals at home with Susan. This includes doing puzzles and reading chapters from novels.
"It's a slow progression because a part of my brain is now dead," Susan admits. "Whitney tries to work around the black hole in my brain; she is trying to rewire it. Whitney is a pro at what she's doing, and I do everything that I'm instructed to do so I can keep moving forward."
"I have such praise for the whole rehab team. It was challenging in the beginning, but Whitney has become like family. We play word games and number games. I take it week by week," she adds.
Susan is back to walking, three miles every day, swimming and driving. She and her husband both agree that she's nearly ready to get back to reading to grade schoolers. In preparation, she has been reading to interns at the hospital. "I know it will take extra effort to go out and read to a group. Instead of being able to wing it, I'll have to practice and then practice some more. But it's worth it if I can do the thing that I love."
"Susan is a shining example of what can be accomplished with hard work and dedication. Her partnership with our team, plus her determination, have led her to be able to participate in activities that weren't remotely possible when she first had her stroke. There are few people in her situation who would be brave enough to get back out there and accomplish such a big goal. She is now able to re-engage in her personal life and her work life. It is a true success story," Bodine says.
To learn more about speech rehabilitation through Texas Health, visit Rehabilitation Services.